More Sword Enchantment Add-On
More Sword Enchantment Addon.Adds 9 Different type of Enchanted Diamond Swords into your world that you can play around with it.These swords can only be obtain by using its own Enchantment Table
This Add-On Adds :
MAKE SURE TO TURN ON EXPERIMENTAL GAMEPLAY
SWORD ENCHANTMENT TABLE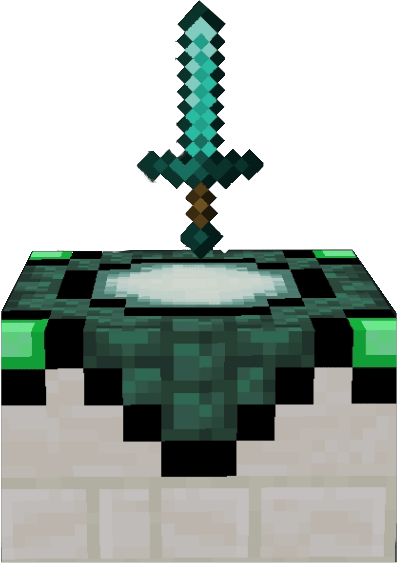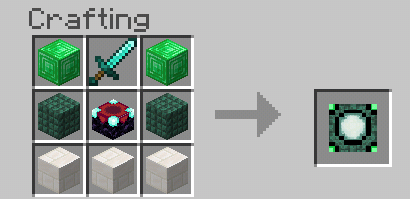 Ingredients :
• 1 diamond sword
• 2 Emerald Blocks
• 2 Dark Prismarine
• 1 Enchantment table
• 2 quartz bricks (not quartz block)
this is the table that you will need to get the swords.After crafting it.you must activate it first.Simply Look at the pattern down below.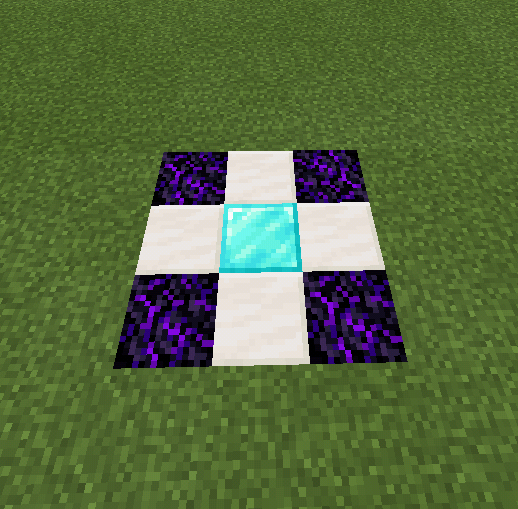 that's a normal quartz block.not the smooth one.
Put the Table on top of the diamond block.after that the table will be active.to know if its active,look at this picture below.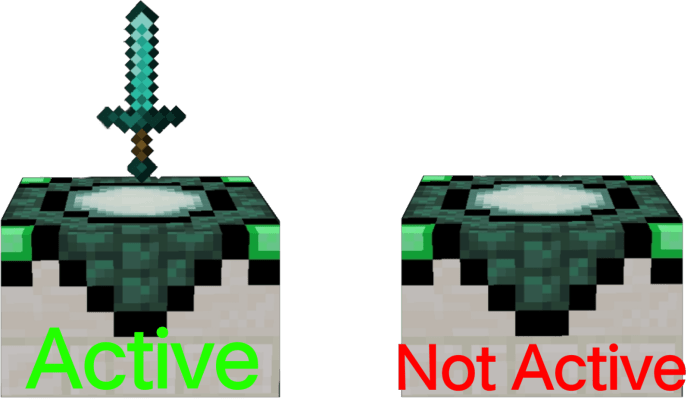 Final step is to test it.
hold a diamond sword and then click the table.you should see a text button like this picture.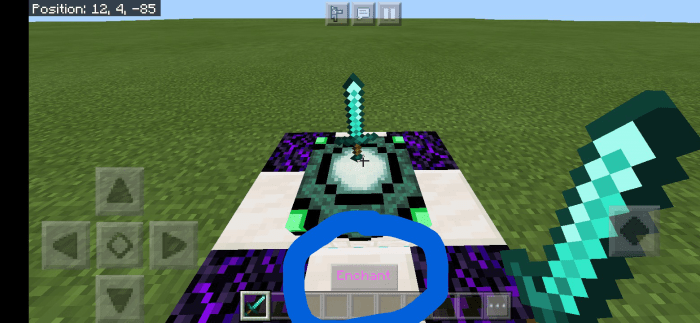 NOTE : to Remove the Enchantment Table.SIMPLY SNEAK AND THEN PUNCH IT.
click it and you will get 1 of these enchantment :
1.Boost Harvest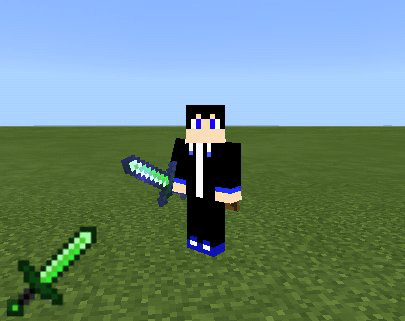 An Enchantment that is Useful for boosting your crops.Hold this sword while standing on a crop and it will grow.
2.Freeze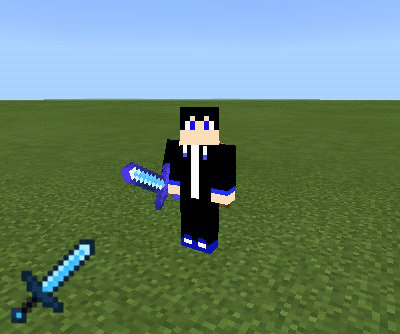 Froze your enemy by using this enchantment.
3.lifesteal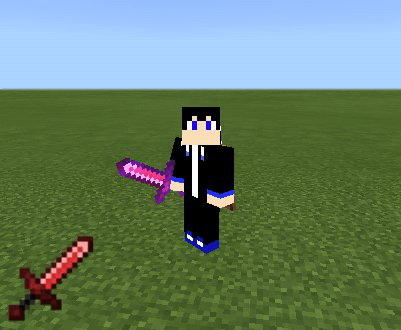 the enchantment that grant you the ability of stealing your enemy's life.List of Mobs that CAN'T be affected by the enchantment :
1.Skeleton
2.Wither skeleton
3.Iron Golem
4.Blaze
5.Wither
6.Ender Dragon
7.Bat
8.Cave Spider
9.Stray
10.ghast
11.Silverfish
12.Cod,Salmon,And Tropical Fish(crash the game)
4.electrocuted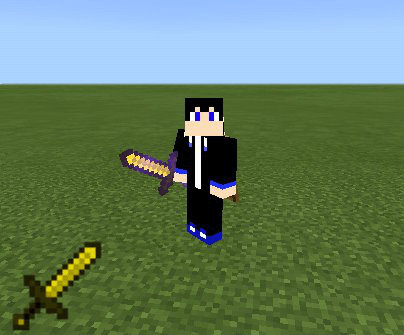 Your prey will be SHOCK when your using this enchanment.Cuz it will summon a lightning whenever you hits something with it.
5.Poison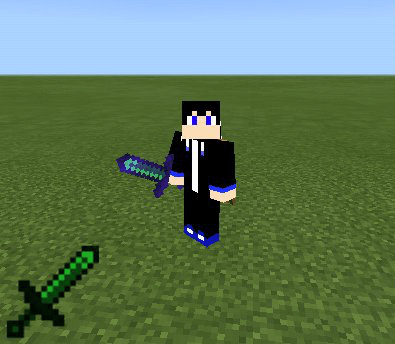 hit something with this sword and they will get poison effect.
6.Explosive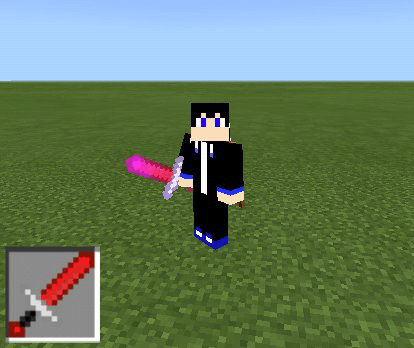 The most Destructive Enchantment of all.you have to be wise when using this sword.cause everytime you swing,this sword will create a large explosion that can destroy nearest blocks.
7.Teleportation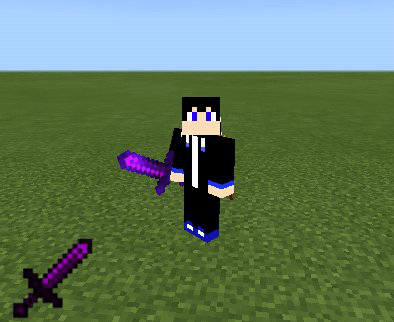 Function just like an ender pearl.aim at a place that you wanna go and then sneak.
8.Wither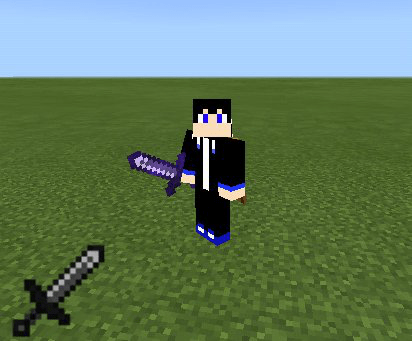 Same enchantment as the poison one.but this enchantment effect all kind of entities.unlike poison that can only effect entities beside undead.
9.Luck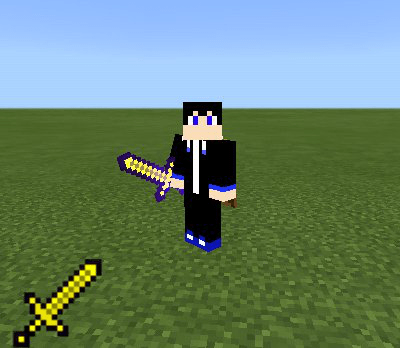 Luck Enchantment will Summon random Destruction like Lightning,Wither skull,shulker bullet,fireball.and fireworks for celebrating the defeat of your enemies.
IMPORTANT INFO : 
• The Swords will not work in creative mode cause of the range.
• The Swords also will not work when you're in UnderWater.
• Recommended to Turn ON Split Control for mobile Players.
• The More You Use the Table.the More Delayed the animation are.You can fix that just by removing the table and then place it again.
That's it for the description 🙂
NOTE :
Please make Sure you give the credits to me when you are showcasing my addons.
Don't you repost this addon to another website 
and don't claim this addon as yours.
And Please use the MCBedrock LINK.And Not the MEDIAFIRE LINK.
Installation
AVOID ANY ADS!!!!
1.click the link down below
2.Wait 5 Seconds
3.Click "Skip"
4.Click "Allow"
5Click "Click this Link"
6.and it will send you to Mediafire Link
7.Click Download
8.Open your Download files
9.Search the Addon
10.Change the text from "zip" to "mcaddon"
11.Tap the file and open it in minecraft
creator: https://www.youtube.com/channel/UCRGw9VFdXVJdWaUlYSl66ow
Downloads