Play with your friends in fun and engaging minigames in Minegames 3! There are 7 minigames, ranging from PvP, to Hide N Seek, to parkour! Each minigame is built with the gameplay of the player in mind, and so each has been uniquely built for the best experience, hopefully!
– Description –
What is Mingames 3?
Minegames 3
is a minigames
world
with 7 minigames to choose from. Each minigame was 
manually built
, by yours truly. As the owner and the main creator in the
world
, I've tried my best to give all players on the
world
the best
experience
possible.
If you want to see all the work I've put in, you can see the changelog in the
 

Info Centre
, where I've written down, essentially, everything I've ever worked on in the
world
.
The Minigames: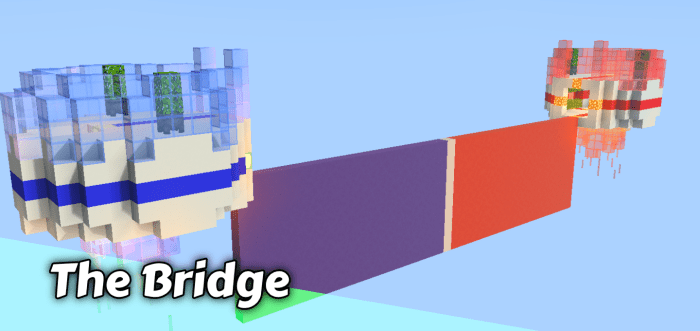 Pin
The Bridge is a fast paced 2 team PvP minigame! Your objective is to cross the bridge, try reach the other team's base, and jump in their goal, which will score you a point! First to 5 points wins! You'll have swords, armour, a diamond pickaxe and blocks in order to try and defeat the other team! Build a giant wall to defend your base, you rush your opponents all at once to try overwhelm them! The choice is yours! Be the first to score 5 points!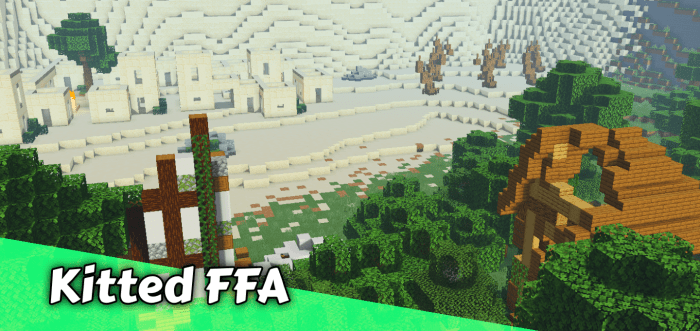 Pin
Kitted FFA is another PvP game but this one is an all against all minigame! Choose from one of 12 kits, and once everyone is ready, use the gear you get from your kit to fight other players and become the last player standing! Find out what kit works best for you, because some people are better with some kits than others. (My favourite is Brute!)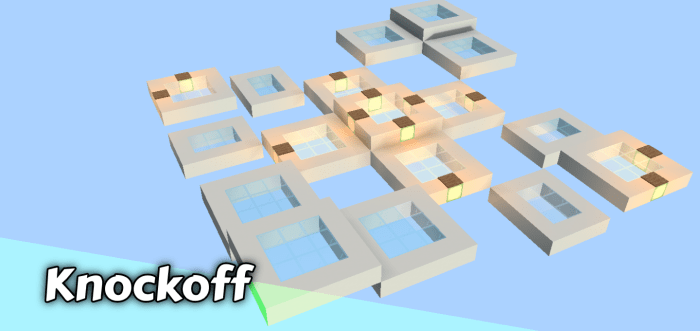 Pin
Knockoff contains PvP but has mildly less of it. In Knockoff, you'll be placed on some floating platforms above the void. You get given a Punch 2 Bow, which does a large amount of knockback, in order to try knock your opponents off the platform. You have 5 lives. Once your lives are gone, you are out! Be the last person standing to win!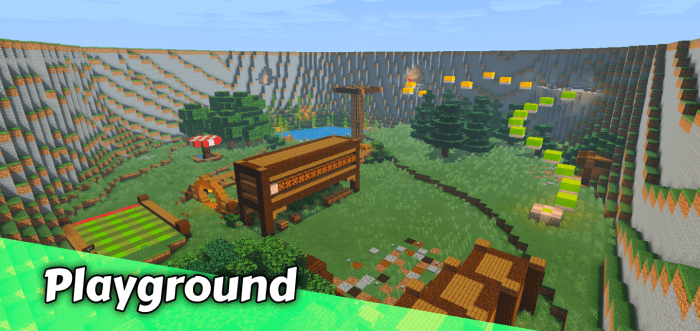 Pin
Playground is a chill minigame. Everyone is placed in the Playground area, and here, you can do whatever you want. You could do parkour. You could have a fight with your friends. You could do archery practice. You could even go AFK if you want to. There is no goal. Just chill out, and do what you want! There's quite a few things to do, so just enjoy yourself! Keep in mind, you don't get points in this minigame.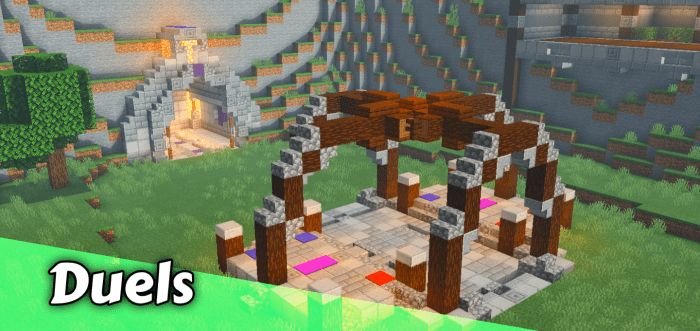 Pin
Duels is a, simple to understand, minigame. There are two teams, and both teams get given gear in order to battle out to be the last team standing. The gear the teams are given include, an iron sword, armour, a bow, arrows, and a couple golden apples.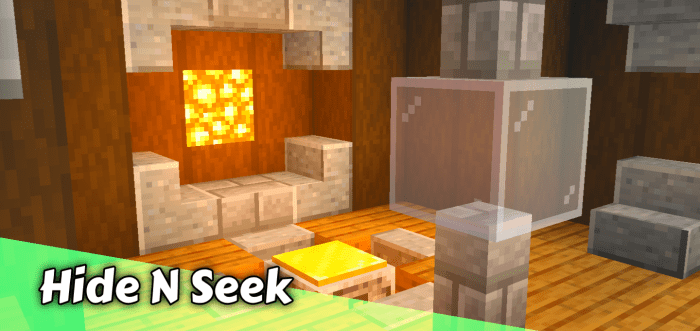 Pin
Hide N Seek is just as you'd expect. There is one seeker, and everyone else is a hider. The seeker has to hit a hider once for them to become a seeker as well. The game ends when either the time runs out or there are no hiders left.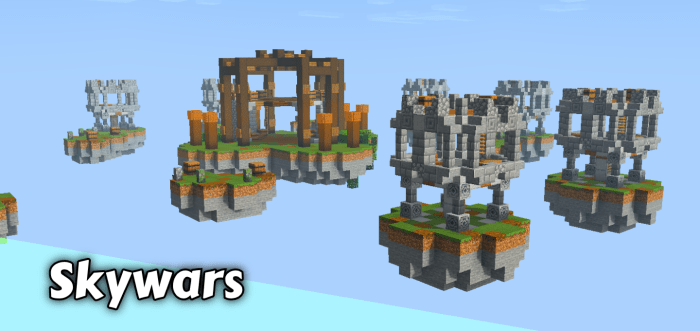 Pin
Skywars is similar to what you may have seen before. You (and your team) spawn on a sky-island with several chests with randomized loot in them. You goal is to be the last team standing, by using what you can find in your chests. You can use blocks to build over to other sky-islands and find more chests to get better loot. Crafting is also enabled, so you can craft better stuff if you find the resources to do so!
Points:
When you win a minigame, you get points. With these points, you can go into the in-game shop and get a trail or head. These won't be able to be used inside minigames, unless it's Playground but they're fun to have and are good for showing off how good you are at winning!
Bugs have been found in the shop recently. I don't know how likely they are to occur, but just keep in mind they may happen.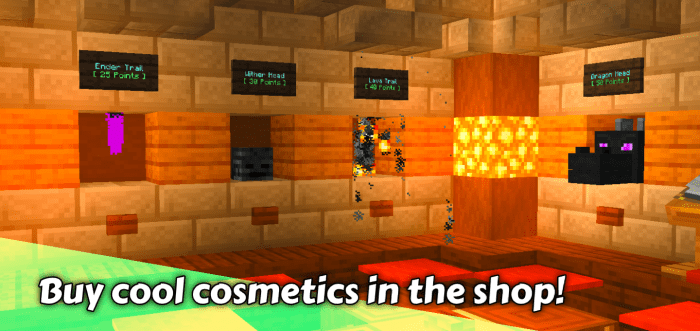 Pin
Other Info:
Other info, such as how to start a minigame, how the shop works and more, can be found in the world. You can go to the Info Centre to check out this info, as well as other things. In theory, all important info should be there, hopefully…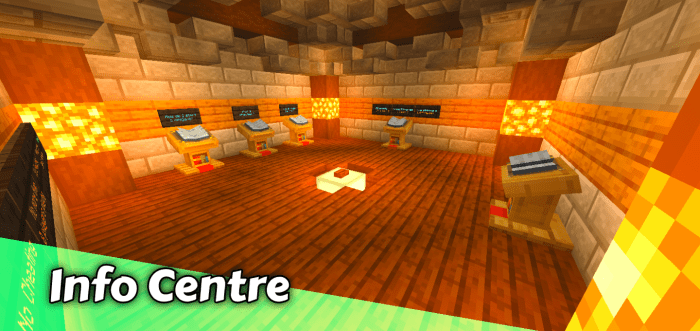 Pin

I also have a YouTube Channel. There's not much there, but if you want to, you could go have a look. I do a few command block tutorials and some other gaming stuff, so if you do decide to check it out, I hope you enjoy my content!
Extra Credit:
How I got Floating Text:
by Keyyard
The Shader in the images:
by Wanze
– Added a new map to Skywars
– Created a new map for Hide and Seek
– New tunnels on the KFFA map
– KFFA kit balances
– Bug Fixes
– And more, of course…
Changed the title, as I forgot to change it last time.
I also changed the display-texts for the downloads, so they're easier to understand.
Minegames v3.7:
Skywars was added, as you know
The [Unknown] kit got replaced with Phantom on Kitted FFA
Knockoff map adjustments
Bug fixes
Updated the images for the MCPEDL site
Updated some descriptions for the MCPEDL site
Hopefully the .mcworld download works now.
Changed "4 minigames" to "6 minigames" in the brief description.
In theory, the .mcworld file should work now. If it doesn't then, that'll be unfortunate.
The in-game changes can be read in the in-game Changelog, but to sum it up:
Night time
New Bridge Map
Spooky Decorations
Added Music including "Pigstep", "Mellohi", and "Wait".
Version 3.60 has been released, with 2 new minigames, including Hide N Seek and Duels.
I've updated the MCPEDL page to show the two new minigames.
In theory, you should be able to download the map now, because for whatever reason, v3.42 didn't download properly.
I've now deleted v3.42 from the page, since it didn't work.
Kinda hoping this reaches the front of MCPEDL. I don't know what it takes to be re-placed at the front, but this is a pretty big update so I hope it gets at least a little attention for it.
Installation
In theory, you should just be able to download one of the files and they should work.
With the .mcworld file, you'll need to place the file anywhere in your Minecraft folder, and open it. (It should work now)
If you have the .zip file, you'll need to unzip and place the unzipped file in the Minecraft worlds folder, wherever that may be.
Downloads
Supported Minecraft versions