Flipper Minigames is mainly a multiplayer map with many minigames, such as Zombies, Animal Hunt, Beekeeper, Beef (Coming Soon), and more! Though it is possible to play single-player, not many minigames support it. Disclaimer: This map is currently in beta, not everything is final!
Minigames:
(All Minigames are subject to change!)


Animal Hunt
(2+ Players)
Animal Hunt is a simple minigame in which hiders will try to hide from the seekers, while the seekers try to find all hiders.
Hiders: Choose an animal on the map to hide as, try not to be suspicious and don't get caught by the seekers. You are free to switch animals at any time during the game. If the seekers do not find you within 5 minutes, you win. Though, if they do, you lose!
Seekers: Try to find all imposter animals, you will be given a crossbow to shoot and kill the hiders. You will lose one heart every time you shoot your crossbow, so be careful with your shots. If you find all hiders within the 5 minute time period, you win. But if you don't, you lose!
Images:


Zombies:
(1+ Players)
Zombies is a survival minigame where you survive against hordes of zombies. Spend XP to upgrade your health/strength and/or weapons in upgrade machines. Mob drops will give you 1 – 5 levels each.
Images: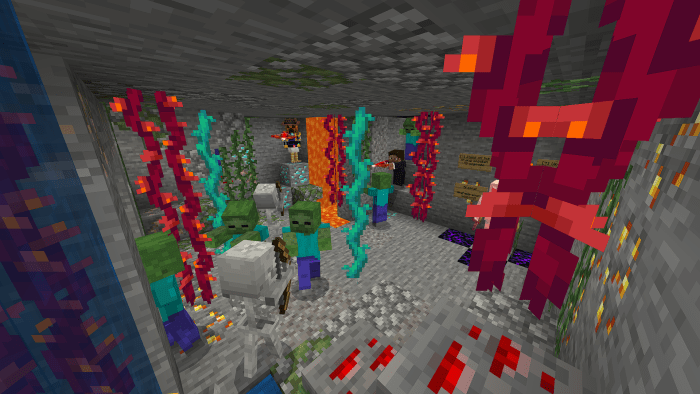 Pin

Beekeeper
(2 – 4 Players)
Beekeeper is another simple minigame in which you will use bonemeal from bonemeal generators on your island to grow flowers, grab the flowers and breed your bees. Each breed will give you 1 point. First to 30 points wins!
Images:




Beef
(Coming Soon!)
Pig Racing
(Coming Soon!)
Pig Fishing
(Coming Soon!)
-and more to come!
Installation
Recommended Players: 2+
Uses a Mediafire download link
CURRENTLY IN BETA
Downloads
Supported Minecraft versions