Hello everyone Welcome to MCPE Race By Pungpond986835. This map is inspired by Mario Kart. It's a racing game. But for today we're playing It in Minecraft style in MCPE Race.
    So… MCPE Race is A racing map Just like Mario Kart but in Minecraft, we didn't have cars so we run, yeah run. So this course is 10,000 blocks long and It should take you about half an hour to an hour but If you took more than that, you suck. This map involves almost every biome in Minecraft. So the objective is to finish the course as fast as you can, and along the way, you can troll your friends to make them slower so you can win. That's it, simple. Enough details, for now, you can take a look at the map your self but before playing the map please check the trailer and the gameplay and please read the book on the lectern.
Here's the trailer
Pretty interesting right? Well, here's my gameplay and the speedrun of me but It's 28 minutes long so If you want to, watch it
and here are the main elements in this map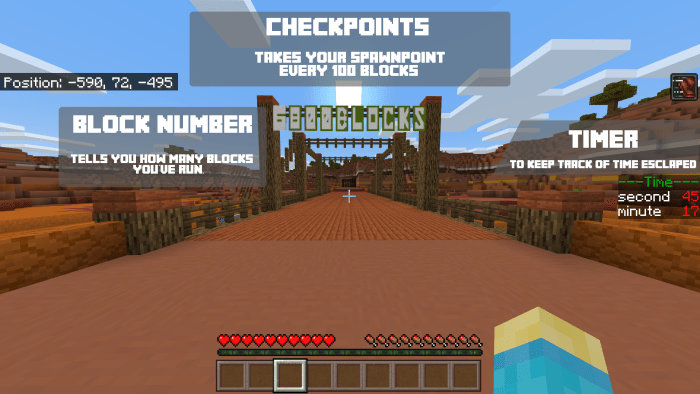 Pin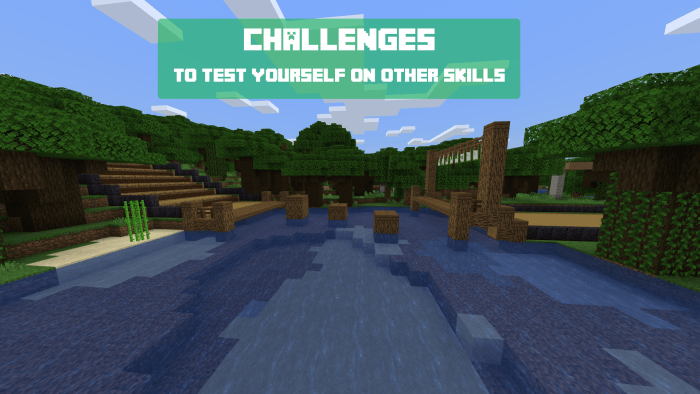 Pin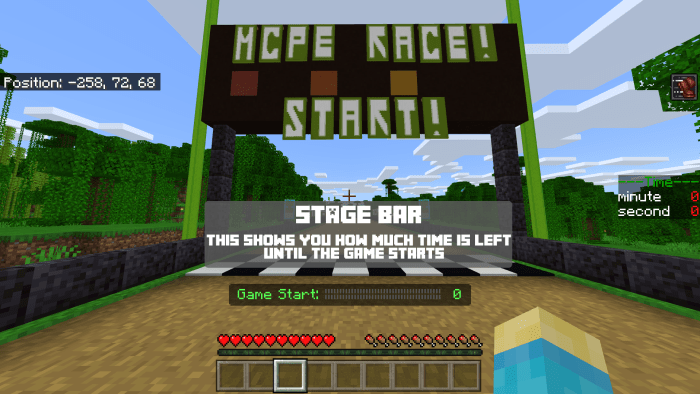 Pin
and the last element is the track the you run on it, Enough, Let's play the game it self and have fun, I'll see you on the next map, bye!
A more clearer perspective of the map and more detailed pictures and guides.
More information about the map and a detailed version of the map's detailed 
The updated version of the MCPE race that involves more details and detailed pictures of all of the elements in this map.
More details for the map to make It clearer to understand the map's concept. 
Installation
    The installation is very easy, Just click the download link and download it, when Your world's downloaded double click to open the file, and It'll automatically install the world for you.
Downloads
Supported Minecraft versions