This addon changes the way diamonds work in your minecraft worlds. This addon changes one thing and that is what the diamonds drop in Minecraft! So instead of receiving a diamond each time you mine diamond ore, you'll receive random OP Loot!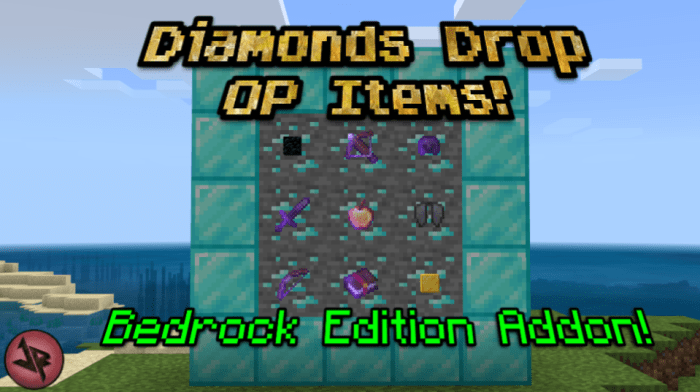 Pin

Possible Drops Include:
Golden Carrots
Bottle o' Enchanting
Gold Blocks
Netherite Scraps, Netherite Ingots or Netherite Blocks
Bookshelves
Anvils
Enchantment Tables
Enchanted Books
Enchanted Bows/Crossbows/Tridents
Arrows
Golden Apples
God Apples
Totems
Fireworks and Elytras
Disclaimer: This addon only works when you set your in-game language settings to English.
---
This addon was created by jesser101
Website: https://jesser101.xyz/
jesser101's Discord Server ( https://discord.gg/9eyvctkjSz)  
creator: https://twitter.com/jesser101_
Downloads