The HorrorCraft Add-on brings 5 new items, 5 new discs, and 17 Horror characters to Minecraft. The characters are Jeff the killer, Jane the killer, Slenderman, Sirenhead, Squidward (Squidward's Suicide), Seed Eater, Strider, Eyeless Jack, and The Rake, and many more!
CartoonCat


Tails Doll


Laughing Jack
Credit to Baushawat for the model


Momo


Sirenhead
Zalgo


Sonic.exe


Moder
Jeff the killer
Slenderman


Jane the killer
Squidward (Squidward's suicide)
Eyeless Jack
Strider
The Rake
50 Hp –> 80 Hp
5 damage –> 10 damage
Seed Eater


Smile Dog
Mothman


Evil Minion
100 Hp
7 damage
Attacks mobs or the player if damage is taken from them
Trades the player new items for tacos (which are craftable), you can also obtain
Jeff's knife from Evil Minion's for 20 tacos.
Their last trades are will switch and are random
Spawn only in the morning in herds from 2-3 Evil Minion's
Photonegative Mickey
John
(Credit to JohnTristan)
Clock 
Crafting recipes
DogeCoin
(Buy DOGE)
Credit to Kangrew for the Texture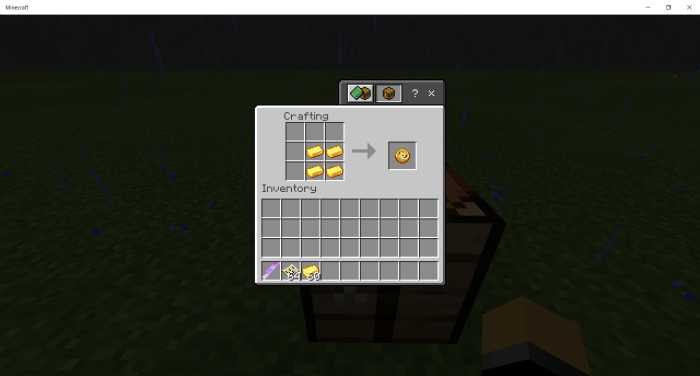 Pin
Taco
Pasta
Stephano
Diaper
All Items
(If you make a video of my add-on please give credit to me (Z3R0TH3H3RO))
(Link the MCBEDROCK link in the description of the video)
(DO NOT post to other sites or share a direct link, Addons take a lot of time and effort)
I hope you all enjoy this update, and also thank you for all the downloads, support, and comments! It really means a lot to me and motivates me to continue
working on the add-on!
Added Laughing Jack
Added Momo
Added Tails Doll
Added Slenderman Attack and Idle animations
Added "DogeCoin"
Made Strider Rideable
Fixed Jane model
Resized Seed Eater to it's correct size
Remodeled mothman
"DogeCoin" is obtained by trading the Evil Minion 1 Taco
Eventually I'll add a laptop which you could buy the CreepyPasta Archives from with "DogeCoin"
Installation
Download mcpack files from links
Open the mcpack and the add-on will install
Enable the add-on's resource and behavior pack
Enjoy!
creator: https://mobile.twitter.com/z3r0th3h3ro
Downloads