This is my End Update addon which is compatible with Minecraft versions 1.16.100 through 1.16.210! This was in work for 4 months and I have now decided to release it! Many new features are being brought to your game with this addon that you're sure to love!
This is my End Update addon. I originally started this project back in December, and have been working on it since then. This is primarily focused on making the End dimension a much better and more interesting place.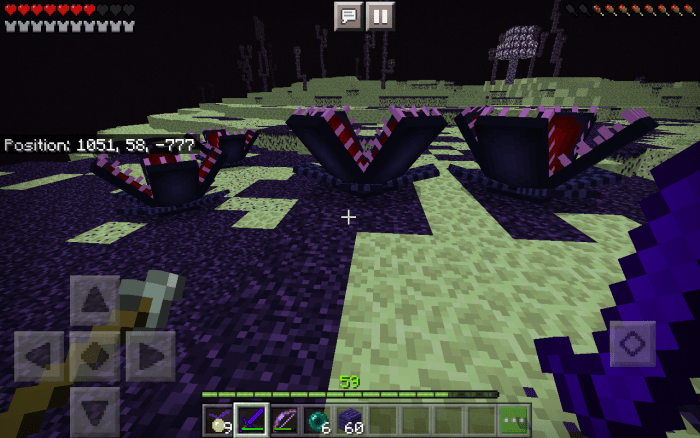 Pin
Above, this is the Aphalaf Plant. It has baby and adult sizes (just being baby and adult). It is a primarily ranged attacker, which depending on how far you are from it, depends on the radius of Seed Bombs summoned. When you're up close, it will melee attack by biting you and giving you the weakness effect. But it only attacks you if you attack it first. If you're not prepared, it could be your last battle!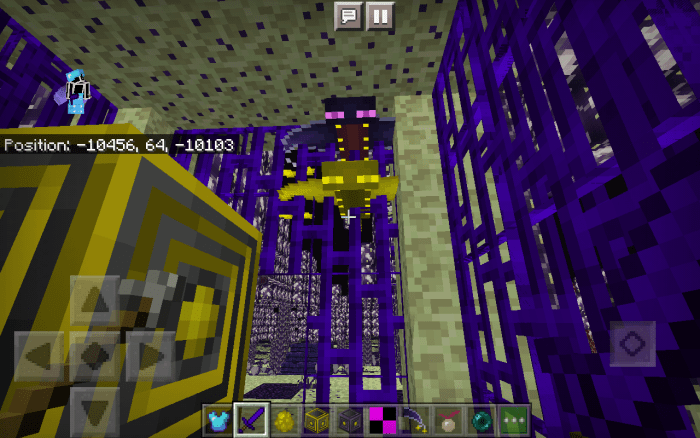 Pin
What are these 2? The purple one is an Evupul, which is a flying mob. It can be ridden, but it can't be controlled, so pay attention to where it's going! Killing it will give you an Evupul Wing, which can be used for… Something… 
The gold one is a Golden Evupul. It is a rarer variant of the Evupul. It has more hp, can resist fire, and can be controlled (but that is still being worked on). Killing him drops a Golden Evupul Wing, which also has a use… 
The Evupuls are not hostile mobs, they are just kinda like mindless, nicer phantoms in a way, but they are not related to phantoms in any way.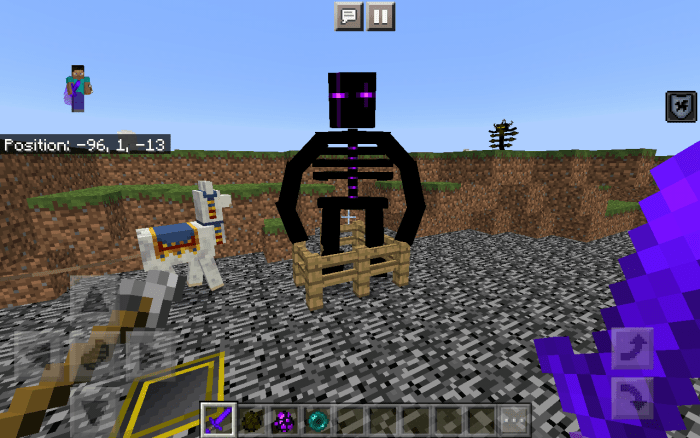 Pin
This big guy is the End Baron! He is probably the third most deadly thing in the End (second being the Aphalaf Boss, and first none other than the Ender Dragon). He may look fragile, but ooooo is that wrong! With no armor (or just crappy armor) he can kill you in 1 hit! If you have good armor, you'll survive, but get the slowness effect. It's not bc he's slow, but it's so he has a speed advantage! When he has targeted you, he runs as fast as you do, so if he slows you down, he can get you no problem! He is a natural rival to the Aphalaf Boss, so you can use that guy to distract the End Baron and get away, but be warned, the Aphalaf Boss could kill you before you have a chance to escape!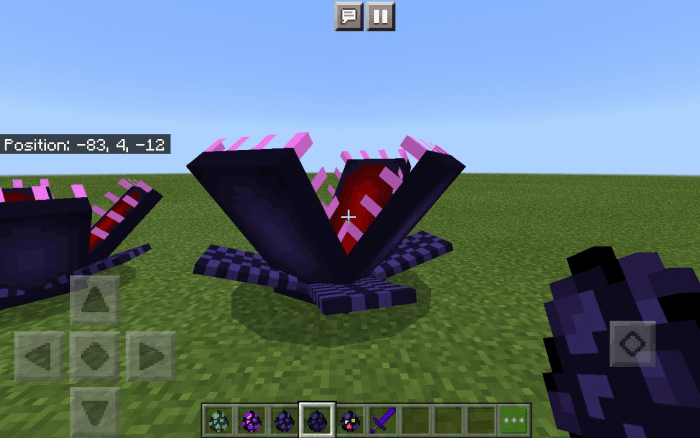 Pin
This here is an Aggressive Aphalaf Plant. It's slightly larger than the normal one, and is stronger, as expected. But, it will attack on sight! Fortunately, they are only summoned by the Aphalaf Boss! Wow, thanks dude -_-
Pin
This is the Watcher. He may look boring, but he's quite unique! He spawns in his default form (shown here) usually, but will sometimes spawn in a flower-like variant called the Watcher Tower (bc its eye is raised up). All the Watcher does is, well, watch you… But, if you experiment with him, you may discover a secret, that I'm not gonna reveal! (It's an easter egg in the addon, bc why not).
I'd show you more mobs, but why spoil it all now, when you can see the others for yourself! ;D
This addon adds new generation to the End Dimension as well, which you can check out yourself, bc it's pretty simple. Trees and plants you can use bone meal on and whatever.
Oh before I "End" off (I'm not funny :[ ) there's new structures too!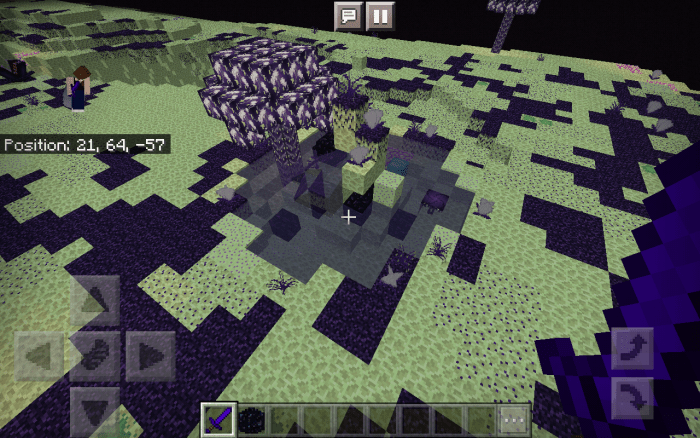 Pin
This is an End Spring. Its nothing special, except for some decent loot. Other than that, it's just for looks. Oh wait, it's also a source of water for the End! And it's not tryna kill me either!!!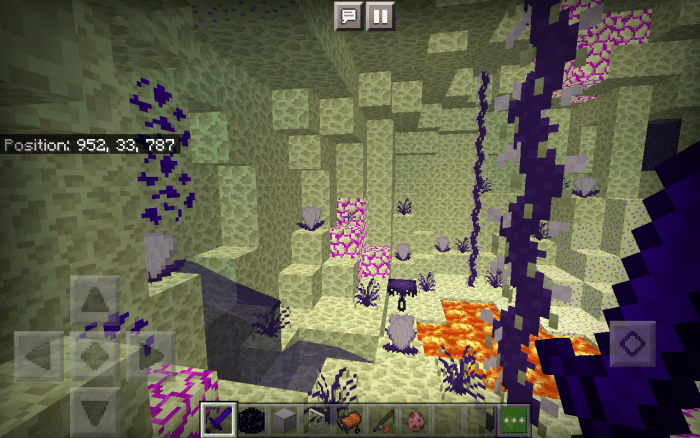 Pin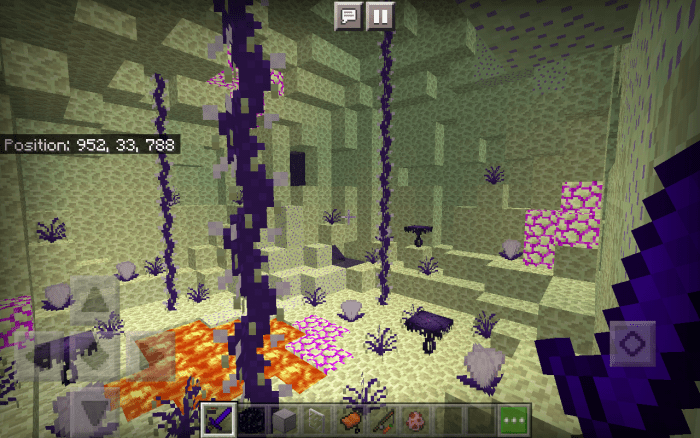 Pin
Yup, you guessed it, it's an End Cave! It may be small, but it's got resources! Water (although the Spring is better for that) and it's even got lava! What does that mean? Ooo an infinite cobble generator for the End! Something else useful! These cozy little caves generate underground, and the walls and ceiling can sometimes be composed of different stuff.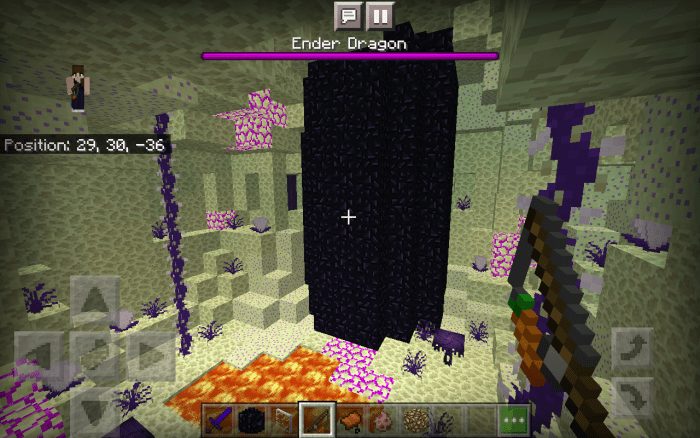 Pin
An End Cave with an End Spike going through it.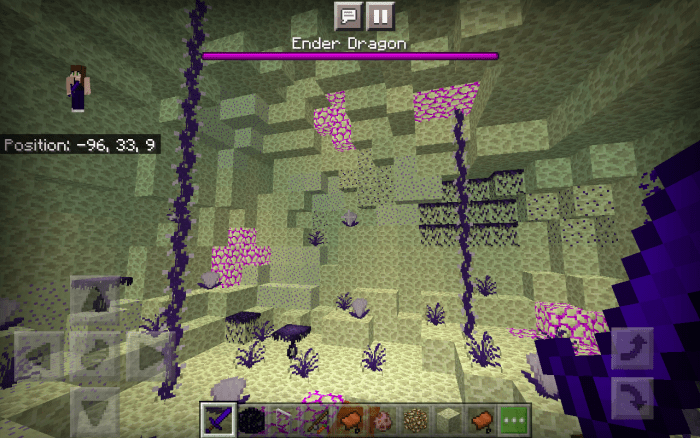 Pin
This cave went through her wardrobe.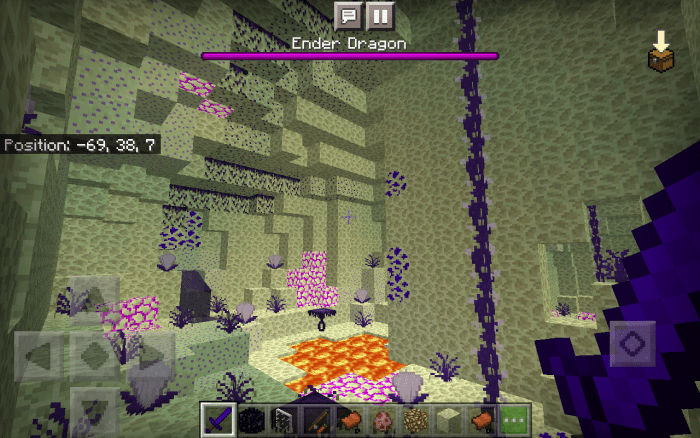 Pin
Looks like someone doesn't know what personal space is.
That's all I'm showing here! Find out the rest by downloading the addon!
I am open to any new ideas for the addon, so if you have any, please tell me.
I'd also like to hear your feedback! What do you think?
Downloads
Supported Minecraft versions